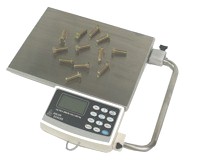 Now you can receive your "nuts and bolts" with no counting...
Usage
1. Start Arlyn Scale Remote Indicator. Click the Activate Remote Screen menu.
2. Check Enable Rolling, click Data Collection, and check Enabled.
3. Return to this add-in.
4. Put a tare bin on the scale and click "<<<" button to read it.
5. Select Item ID.
6. Put parts into the tare bin.
7. Click the Read Scale Weight.
8. Click the Receive.
Repeat steps 5 through 8 for more parts.
To obtain this add-in, please contact us at support@almyta.com