Small Business Software (SBS): License Payment
Product: Small Buseness Software (SBS) - single-user (no network usage)
Price: $39.00 (USD)
Almyta Systems collects all online payments through PayPal.com. You do not have to have an account with PayPal and can decline to open one if offered. Use your credit card or electronic check in this case. We never share your information. Neither do we make unsolicited calls. Please see our privacy policy for more information.
All sales are final. This software is supported strictly by means of our SBS Forum.
To obtain SBS Serial number, go to the Help/License Info menu.

Select between two license types (message #2164):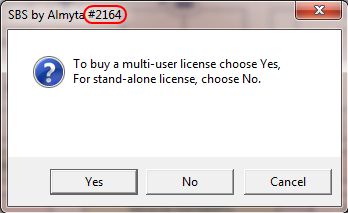 If you have an internet connection, you should be brought to this webpage and serial number will be populated for you. If there is no internet at the moment or your firewall blocks SBS, the next screen will show your SBS serial number.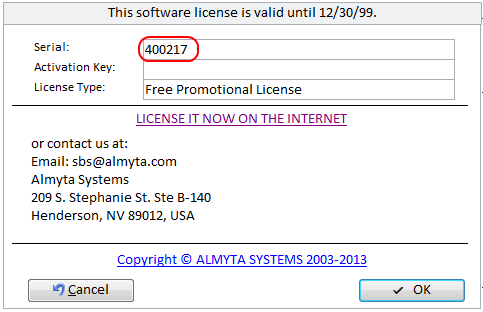 Please email or call us if you have any problems with the payment: sbs@almyta.com +1 702 263-4997