For version 3.12.11C or later, you can use auto-updater, which is located
in the "Help/Download Updates" menu.

Latest version: 312.44 A9.
You don't need to be a registered user to update your Almyta Control System.
To find out the software version installed on your machine, in Almyta Control System, use the Help/Version menu.
To automatically check for updates, in Almyta Company Selector, click the Updates button.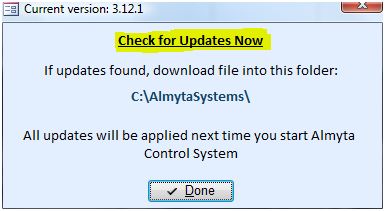 Follow the Check for Updates Now link.
Almyta Control System was last updated on February 9th, 2019