For version 3.12.11C or later, you can use auto-updater, which is located
in the "Help/Download Updates" menu.

Latest version: 312.44 A1.
You don't need to be a registered user to update your Almyta Control System.
To find out the software version installed on your machine, in Almyta Control System, use the Help/Version menu.
To automatically check for updates, in Almyta Company Selector, click the Updates button.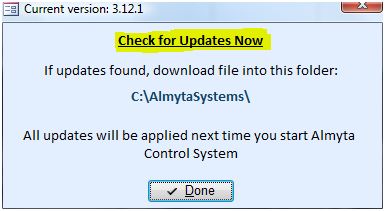 Follow the Check for Updates Now link.
Almyta Control System was last updated on October 14th, 2018
3.12.39E - Moving on/off the holding locations function has been revised. Staging location can be a holding as well now.
3.12.39D - Data export file names are more descriptive now.
.
.
3.12.35I - Muliple improvements, Approvel Dates, Part Revisions.
3.12.34A - Mobile devices added.
3.12.28A - Order fulfillment screen revised. Multiple fixes and improvements.
3.12.27A - Addressing MS Access 2010 crashes on Windows 7. Other MS Access 2010/Windows 7 related issues.
3.12.26D - Readjusted currency rates update functionality.
3.12.26C - Added fields to the Sales Invoice and Quote printout.
3.12.26B - Help menu weblinks changed.
3.12.26A - Subassembly workorder auto-making (Work Order screen, button to the left of WO Number), BOM component bulk updater (Data menu tab).
.
.
3.12.19A - Added: Order fulfillment to PDF added, issuing parts with 0 assembly units on the work order screen. Fixed: "Item cost update based on last PO".
3.12.15B...18A - Mulptiple improvements and fixes.
3.12.15A - Restrict attachment placements (System/Attachment Locations menu).
3.12.14A - Currency rates auto-updates.
3.12.13K - View location on the map instantly by double-clicking an address field on any screen.
3.12.12A - Customer part numbers on the Shipping Order screen, Line Items. Sales quotations.