All software downloads are free of adware, spyware, and other potentially unwanted programs. Click McAfee icon on the left.
Participate in our quest for delivering the best inventory software to the market.
Download our free ABC Inventory Software.
64-bit ABC Inventory Software
- Faster PCs with 64-bit Windows. (346MB)
32-bit ABC Inventory Software
- 32/64-bit Windows or 32-bit Microsoft Office. (86MB)
To install, save to disk, unblock in the file properties if needed, and run the file. This is always the latest package which we cannot say for other websites hosting it on their own.
ABC Inventory software is an absolutely free inventory software for small and mid-sized businesses. There is no limit on number of records in the database. There is no limit on a number of workstations, it can be installed on. Although, this free promotional license, will not entitle you to a phone, email, online support. Neither will you be able to link your workstations together to make them read and modify the same data. If you decide to use our free license, you can get help at
this forum
. In any case, you can always upgrade ABC Inventory software to Almyta Control System software. All your data will be preserved.
| | |
| --- | --- |
| | ABC Inventory Software is a free subset of our Almyta Control System (ACS). This MRP II application has been designed to handle every aspect of inventory management, providing the ability to track each step in the inventory life cycle from the time you create a purchase order for your supplier to the moment you ship the product to your customer. At the same time, ABC Inventory's modular organization ensures flexibility and enables you to adapt the program to your specific needs. The commercial version of ABC Inventory is 100 percent customizable. |
Below, you can find major functionality for ABC Inventory Software. If you feel that there are too many features for your everyday business, try our smaller package Almyta Inventory Distributor (AID). It also comes with a free single-user license.
Compare
the features. Download AID from
almyta.net
You can install both packages on the same machine. They will not interfere with each other. By default, they install into the same folder (c:\AlmytaSystems) and use the same database frame. This greatly saves disk space and makes it easier to manage all your databases.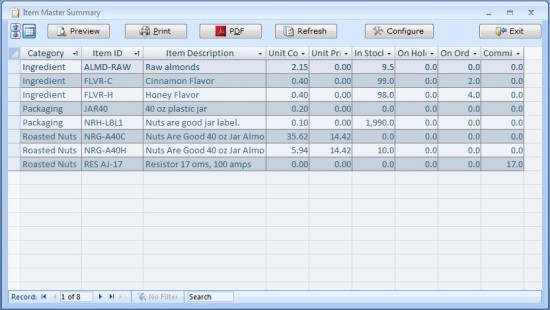 ABC inventory major functionality by module
(all modules are included with a single package)
Basic Features

Single user (multi-user available in the commercial version only)
Multiple companies
Multiple Warehouses for a company
Multiple Currencies
Currency rates auto-update
User selectable decimal places for currency
Multiple workstation configurations
Multiple logos
User selectable decimal places for inventory units
Password protection
Screen and report permissions by user or group
Screen fields translations
Popup messages translation
Screens and reports customizations
Add-in functions, reports, and forms technology (commercial version only)
Export data to Microsoft Excel, Word, HTML, and text functionality
Copy to New company function
Company backups
Restore Last function
Restore Any function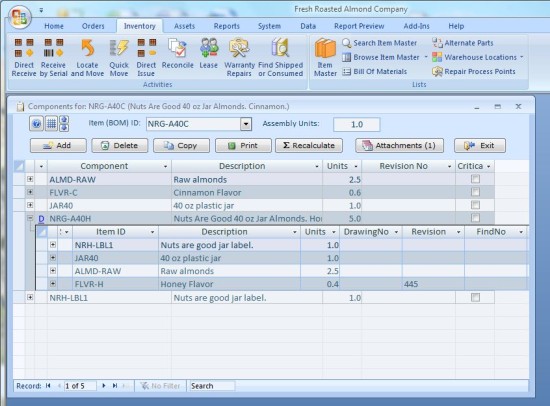 Purchase Orders

Purchase orders for inventory and fixed assets
Automatic with suffix/prefix or manual purchase order numbering
Receiving inventory and fixed assets against purchase orders
Automatic purchase order generation based on historical data
Quick price quotation based on purchasing history
Payment terms and predefined memos
Support for custom printed purchase order from
Reports include Low Stock Notification and Inventory to Order
Copy to New function
Support for screen customization
Supplier catalog for inventory items
Purchasing unit of measure conversion
Supplier database with suspension and probation warning flags
Support for items with temporary IDs
Supplier's term agreements (contracts) for inventory items
Supplier multiple pickup locations
Supplier browse and advanced search
Buying materials for specific work orders
Blanket purchase orders with the delivery schedule
Support for purchase order approval process
Support for "onetime buy" items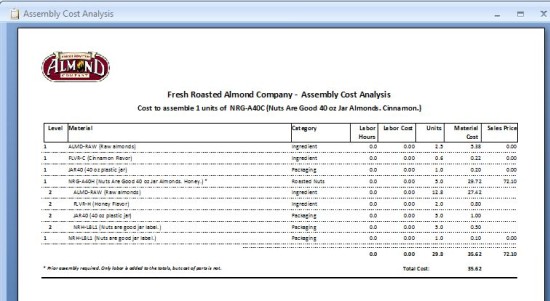 Warehouse Appointments

Support for screen customization
Automated invoices for handling and shipping. Scheduling warehouse appointments for inventory items
Automatic with suffix/prefix or manual appointment numbering
Receiving inventory against warehouse appointments
Reporting back to a client the appointments' status
Port to Port operations


Inventory Control

Inventory Item Master List
Inventory Item Master List filters
Inventory unit detail
Unit detail filters
Multiple warehouse locations with a default location
Multiple Warehouses
Warehouse/location movement logs
Inventory direct positive/negative adjustment
Multiple receive/issue screen formats and views
Auto-loading support for inventory issues
Issue by location, serial number, remarks support
Multiple Pick list and packing List formats
Stow list at receiving support
Serial/lot number data entry assistance at receiving
Internal Inventory Labels with barcodes support
Barcode scanning at receiving
Barcode scanning at loading and shipping
Inventory Repairs
Inventory Leasing
Inventory shipped/used units archives
Inventory Cost Quotation
Inventory reservations for specific work orders
Buy, Sell, and Make items types
First and second Serial/Lot numbers with full barcode support
Auto-assign Serial/Lot numbers
Inventory Categories
Unit of Measure conversions
Package Types
Cost Centers
Default suppliers (clients)
Warranties
In Stock, On Hold, Committed, and On Order totals and details
Item pictures with catalog printing
Manufacturing and Engineering numbers
General Leger accounts
Fast browse and advanced Search
Monthly demand auto-calculation based on historical data
Numerous reports and barcoded labels
Ten custom dropdown lists for extra properties
Copy to New function
LIFO, FIFO, and average costs evaluation
Screen customization support
Inventory Import/Export
Batch barcode readers support
RF barcode readers support
Multiple barcode format definitions
Composite barcode parsing


Sales/Shipping Orders

Sales/Warehouse Shipping orders for inventory items
Automatic with suffix/prefix or manual order numbering
Order fulfillment
Customer/Contact List with line of business classification
Customer Multiple "ship to" locations
Customer warning flags
Customer multiple sales representatives
Customer browse and advanced search
Customer link to supplier
Shipping Manifest (Bill of Lading)
Payment terms and predefined memos
Carriers and "ship via" lists
Fill or Kill orders
Auto and semi-auto backorder generation
Copy to New function
Screen customization support
Customer and sales representative auto-email support
Automated invoices for handling and shipping.
Order approval support
Support for kits
Support for work orders
Quotes for outstanding orders
Invoices for shipped orders
Pick List and Packing Slip


Free Work Orders

Automatic product creation with serial number assignments
Automatic parts consumption
Blanket work orders
Approval support
Parts and labor quotations
Machine assembly orders
Automatic with suffix/prefix or manual order numbering
Fixed Asset repair and maintenance orders
Customer site orders


Bill of Materials

Single level bill of materials
Multi level bill of materials (up to 20 levels)
Component serial number tracking
Circular reference detection
Screen customization support
Automatic assembly cost calculation
Critical parts support
Purchase and reserve parts support
Copy to New function


Fixed Asset Management

Automatic with suffix/prefix or manual asset tags
Tangible Assets
Intangible Assets
Asset to asset allocation
Purchase order receive
Deprecation comparison (by two deprecation types) reports
Copy to New function
Asset pictures with catalog printing
Barcoded asset tag labels
Screen customization support
Usage counters
Energy consumption counters
Replacement costs
Direct receive/retirement

Hardware/Software Requirements:
Intel or AMD based PC
Windows XP SP2/Server 2003/Vista
60MB free disk space
800 x 600 minimum screen resolution
Network for multi user configurations (optional)
Technical Features:
Single with password protection
Multiple Company, Training, and Test Datasets
Backup and Restore
Login Sensitive Configuration and Screen Customization
Scan/Print Barcode Ready

"ABC Inventory Software is an attractive, integrated package that is easy to install. It is everything, I could dream of, for a one low price of $0.00. It is Absolutely Free."

- John Samson, Overnight Blood Labs.